Artexpo NYC, April 14-17, 2016
Attend for FREE!
Artexpo New York, April 14-17, 2016 is almost here!  I look forward to having you attend as a guest of JNFA.
This year, I will be featuring ALL NEW WORK!
You'll see paintings with canvas stretched around organic shapes that have parabolic surfaces.  The paintings are mounted on gorgeous sculptural complements, created by Robert Post, that are handcrafted from exotic, beautiful woods.
Experience for the first time, extensive coverage of the Treehouse Studio!
Watch the just filmed 'artist at work' video with mind-blowing, never before seen views of this unique creation space. This amazing video was shot on location and produced by the experts at Crumlic Media
Enjoy the large feature wall with beautiful photos of the many personalities of the Treehouse Studio
You'll find all this at BOOTH #A to the left of the main entrance area.  I look forward to seeing you there!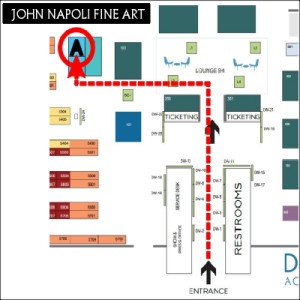 Here are your free passes for the event!
Trades/Businesses click me for FREE VIP passes!
Friends/Family click me for FREE VIP Passes!
To use the link, enter your number of passes, and click 'Register', do NOT click 'Apply'.  Follow the remaining steps to print your passes or have them emailed to you.
If you prefer, I will be happy to generate and email your passes to you.  Leaving sufficient time (I will be largely unavailable within a few days of the show), send me a message (please include your address and zip for the ticket registration) and let me know the number of passes you need.
Event Details
Artexpo NYC, April 14-17, 2016 in NYC at Pier 94 (Click me for directions).
You are welcome to attend the 'VIP Opening Night Preview Party' on the evening of the 14th!