Art is my life.
Everything I do, I do to create art.
Our senses are the most miraculous gift of any in all creation. They are the culmination of the Universe's ability, as they provide perception, awareness and self-expression. Without them, the Universe would merely be matter, roads with no cars to travel on them and explore the world. With them, it is a place of wonder and beauty, where we travel the endless network of highways that provide access pathways to facets of existence. Art is meaning, because it gives our senses an incredible reason to exist. Art applies the greatest creation in the Universe to its fullest extent. It  extends the Universe to create new places, dimensions, entities and forms of awareness. Art is another dimension. When we create art, we become part of the Universe's causality, expansion, and self-perpetuation, and re-purpose its energy, the Universe's sole activity.
Like the Universe, Art always produces something that has never been seen before. Art is something that is a thing, it is a creation, and it exists for a reason, though it is inexplicable. This is what I intend to create when I make art.  Something that never existed, then, when you see it, you recognize that it always has, and always will, exist.
The work is the embodiment of energy, nature, form and structure.
Structure is the foundation of the work and supports it, much like our body has bones to support itself. The studio is designed to exemplify this and the work created in it depicts these principles. Like Nature, the work grows organically. Products of a natural existence with a thumbprint of humanity much like a cultured garden.  They incorporate things that change over time such as light, trees, skies and weather.
Capturing the dynamics of life, in nature, over time, opens the door to magic and the creation of art which moves us in inexplicable ways.  Materializing that which is intangible, imperceptible, and unapproachable.
The paintings are understood and relatable, but not known. They can be explored, experienced, and created over and again in new ways each time you visit with them.
BACKGROUND
I exist is to create works of indescribable beauty and magnificence that move us in the most profound way.
I love art. I want to grow it. I want to take it to places it's never been before. Have it be something it's only dreamed of being.
My art philosophy is to create work that exists purely for its aesthetic. Work that is riddled with mystery, beauty, meaning and artistic ingenuity.
I have a wife and two children who fill my life with love, meaning and wonder, and I have designed and built an artistic workplace which offers the necessities of ceaseless light and unending inspiration, and brings Nature's glory right to the canvas (see the Treehouse Studio).
My unhindered focus is on the passion, the wonder, and the creations in nature that I join with in order to live the story of a human being who loves life so much that he spends his life observing, perpetuating, manifesting, and documenting it through worship of it, and directed presence within it.
Working with intense focus, dedication and commitment for 35 years you will see a compelling body of work that is energetic, vibrant, artistically complex and sophisticated.
---
THE JNFA COMMUNITY
John Napoli Fine Art is providing Original Fine Art and Prints to an inspired community of JNFA owners who I am happy to call members of the JFNA art family.  Whenever possible, I personally deliver and install JNFA Original Oil Paintings.  The 'connection' with the work in its new home is a gratifying experience for all.  All JNFA use unique stretchers, custom designed and hand-made by the artist – CHECK THESE OUT!
I have created a straightforward Business Model to make your art acquisition experience a completely positive one.
Sharing JNFA Art Family sentiments:
'LIMITLESS' (Commissioned work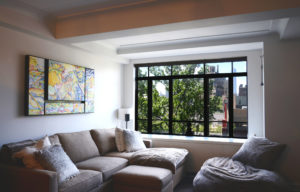 ) : Greg Telleri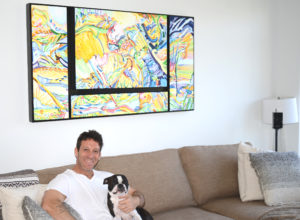 I really appreciate that John took the time to personally meet with me and work with me on something that met my unique needs and interests exactly.  The energy and heart he puts into his pieces, as well as his general approach to art-making is genuinely uncommon.
This kind of passion means the world to me.  His commission design is inspiring and I am very excited to see the result! – Greg
'Limitless' has exceeded my expectations in every way.  It brings an incredible energy to my home and I enjoy meditating with it on a regular basis.  I consider it the treasure of my collection of art.  It utterly captured the essence of what i wanted to bring to my home and life. – Greg
---
'SENTINELS' (Original Oil Painting) : Ricky and Shelly Henner
Dear John…..
First I need to start by saying THANK YOU for allowing us the honor and privilege of having one of your paintings hanging on our wall, and completing our home. The warmth, the care, and the love that you exude reflects in every stroke of our painting, "SENTINELS". I purposely use the word "our" because it will always belong to you, the creator, and now us, the ones that get to smile and admire it everyday.
"Sentinels" caught Ricky's eye immediately and he knew right away it belonged in our home. I knew it was right for us after meeting you. You took the time to explain every stroke, every thought, and every personal feeling that went into this painting. By the time we were done talking both of us were in tears and I then knew "Sentinels" found a new home. You then offered to come and hang it for us, which made the entire process complete. I can't thank you enough for the special day you and Rob (who did the beautiful woodwork/frame) gave to us.
John, You have said your mission is to: Find great homes for your work, and, Make more work.
You are an extraordinary artist, whose love and warmth and passion exhibits in every painting of yours.
Thank you for your magnificent work of SENTINELS
Thank you for giving us the opportunity to love it every day.
Thank you for being a special person!
Part of our home is now part of your home!!!
Always….Shelly and Ricky Henner
---
'OAK AND FIELD' (Original Oil Pastel) : Neil and Valeria Whitworth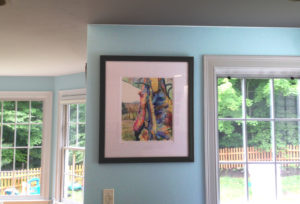 We purchased your painting "Oak and Field" at the New York art show earlier this year and I wanted to tell you how much joy it's brought to us on a daily basis. It was so full of light and colors that it had to be in a bright place in our home so we hung it in our kitchen next to windows that look out to lawn and woods in our backyard. Our eyes are drawn to it every morning and I call it our "visual coffee" as it wakes up our senses and seems to pull the view of the woods inside – beautifully connecting us to the wonder of nature every day.
Thanks so much John – your beautiful art brightens our mornings daily.
Neil and Valeria Whitworth
---
'WALK W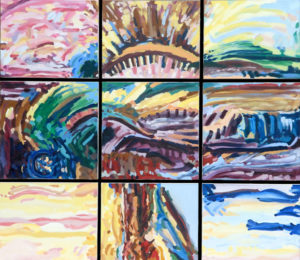 ITH ME DEER THROUGH EARTH, AIR, WATER AND FIRE' (Original Oil Painting) : Dr. Jeffrey W. and Michelle Richig
John has a masterful way of blending colors to create works of stunning originality. His multi-talents include forging the unique frames which not only house his amazing works but contribute artistically to the entire piece. We commissioned John to create a special painting for our home. He fashioned a piece that demonstrated such aesthetic beauty it is like a symphony of light and color. In addition to his artistic talent John's attentiveness is impeccable. We derive great peace and joy from this Majestic artwork. Compliments abound from many who view it. It is truly a masterpiece!
Dr. Jeffrey W. and Michelle Richig
---
'JUNGLE LOVE' (Stretched Canvas Print) : Franne and Bob Demetrician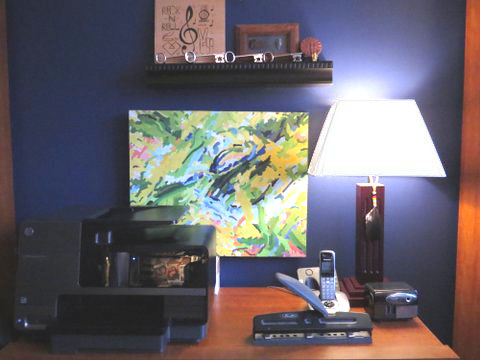 I have the good fortune to have a print of one of John Napoli's paintings in my home. It lives in my office and is placed in direct view of my computer's camera so that when my husband and I teach our webinars our attendees see it in the background. It's the first thing I see when I enter my office every day and it lifts my mood immediately and infuses my workspace with its wonderful energy. I can't wait to have another piece over my desk. We are looking forward to attending John's next show so we can soak up all that treehouse juju! – Franne
---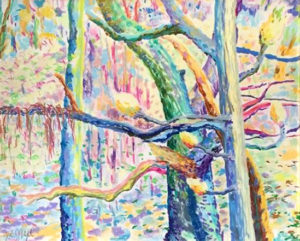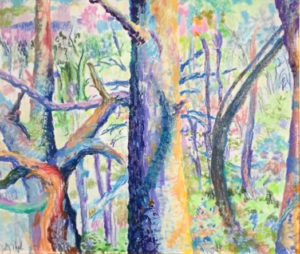 'HICKORY TREES and SPRING TREE BLOSSOMS' (Original Oil Pastels) : Joseph and Tammy Napoli
John's masterful unique style is moving and inspiring. As you look at the work it's as if it comes to life with a different expression each time. The perception of constant change is similar in nature. You can feel clearly he is aligned with nature and God when he creates the work. – Joseph
---
RECLINING FOREST (Original Oil Painting) and VAST HORIZON (Original Oil Pastel) : Dave and Marissa Boylston
I have two John Napoli pieces in my home, and they are by far the most meaningful part of all my decor. Both are quite different. One is a landscape featuring radiant colors whereas the other is more eclectic and abstract . What I love most about this artist's style is that no matter how many times I look at his work, there is always something new to discover and enjoy. – Marissa
---